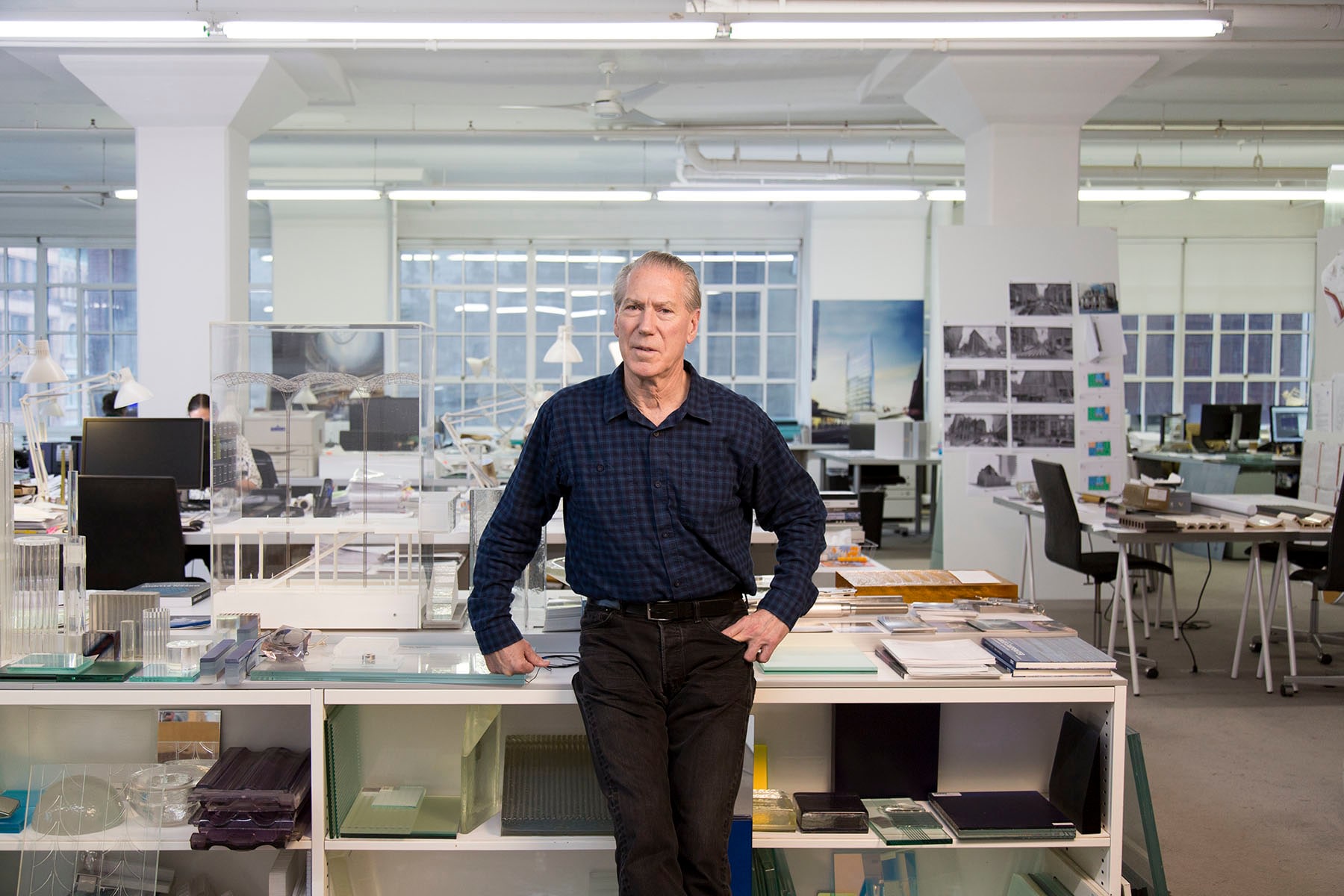 James Carpenter Design Associates (JCDA) was established in 1979 as a cross-disciplinary design firm, merging fine art, engineering, architecture and environment to re-establish and enhance connections to our natural surroundings.
While JCDA's working method is to respond creatively to all the particulars of each project, the thread that binds its design approach is light, its environmental characteristics and the presence of nature. JCDA's understanding of light encompasses both its scientific principles and its physiological and psychological presence. Light is woven into solutions that address the client's program and performance goals to create unique solutions and designs. The experience of light and its interplay with nature is defined with a range of materials and geometries, animating spaces through the cycles of the days and seasons, providing users and occupants with a more profound connection to the natural world beyond the building, engaging the sky and landscape to animate activities and collaboration within.
With more than 40 years of built projects, JCDA is often engaged by clients to articulate a transformative vision, collaborating with clients and project teams to design key strategic and often unexpected elements that transform and entirely reframe existing built environments.
JCDA has successfully created significant works that radically transform landscapes and architectural conditions, particularly adaptive reuse and campus-scale renewals, addressing various levels of transformation, from the leveraging of "spaces in between" such as the Schwartz Pavilion for Harvard Business School (2018-2019) to large scale building expansions and renovations such as the renewal of the Israel Museum Jerusalem (2005-2011).
This approach is evident across its practice, including such major cultural projects as the Museum at the Gateway Arch in St. Louis (2010-2018). Significant commercial projects such as the Ion, an innovation hub in Houston, the Gucci Japan Flagship building in Tokyo (2003-2006) and the "Ice Falls" water feature in the Hearst Tower (2002-2006), also create a layered, dynamic experience of the built environment at the intersection of the natural world, offering a unifying civic experience.
The firm is also noted for its activations of public spaces, including designs for New York's Fulton Center, the monumental "Sky Reflector-Net" (2004-2014), and the exterior envelope and lobby of Seven World Trade Center Tower (2001-2006) in New York. Projects such as the University of Chicago's "Midway Crossings" (2009-2014), which included landscape and infrastructure linking the University's north and south campuses, speak to JCDA's ability to reintegrate and reanimate the built environment within the urban context.
For each project, the studio's process of in-depth research, sequential iterations of both site and detail models, full scale models and mock-ups are developed for client discussion and refinement well in advance of bidding, then used to educate the bidders and rationally inform their understanding of the project. This depth of knowledge and experience of materials, methods and manufacturing often results in cost savings to the client. James Carpenter's role is both one of collaborative visioning and pragmatic execution. The studio is based in New York City and has a staff of 12, all possessing remarkable design and detail experience.
Led by James Carpenter, with a creative team including Richard Kress, Joseph Welker, Katharine McClellan, and Allison Wills. JCDA has been recognized with numerous awards, including the National Environmental Design Award from the Smithsonian Institution and the American Institute of Architects Honor Award. Mr. Carpenter received a MacArthur Fellowship in 2004 and "The Daylight Award" from the Villum and Velux Foundations in 2010.